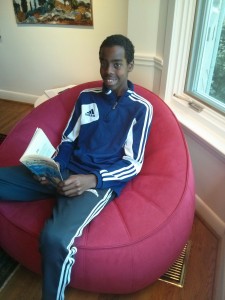 Today was our last day of summer tutoring. Haroun wrote a short essay, and here it is in his own words.   It's a 'hamburger essay', and I helped him organize his thoughts into point-form, otherwise it's all his.  His spelling is phonetically plausible so spell-check helped a bit.
THE LAST DAY OF READING PROGRAM
Tom and i working  on reading over the summer.It wasen't easy the first time that i was read.So i met tom. first we were reading for 1 1/2  hours then we increase the time to 2 or 3 hours a day.
Each day i develop my reading skill because i sit down for about 2 hours or more to just read and increase my reading skill level so i am ready for high school.
My confidence got better because i never use to like reading but when tom teached me how to read a book now i love reading. I use to go home and play video games and go out and play soccer and basketball and spend 0 hours on reading but now when i go home i pick up a book and read at least l  hours.
I see the world differently because now that i can read good i can go on the subway and read the map  and the station the i am going to.
I am looking forward to go to high school  because know that i can read i know i am going to pass all my class and all the teacher will be impressed with me.
sincerely:Haroun